About Paralia ...

Paralia is a famous place for vacation northern Greece and Olipmpijske region, only 70 km from Thessaloniki, 15 km from Mount Olympus "Mountains of the Gods, near Dione famous archaeological site and six miles from the city of Katerini, which is the center region of Pieria.
Letovaliste is located on the Aegean Sea, has beautiful beaches with warm sea and a pleasant climate. Paralia has a great nightlife, lots of cafes, discos, taverns, and one of the main features is a great offer of shops and boutiques.
Paralia a summer destination for those who want to spend a vacation.
The main square is the site of the Church which is located on the coast and in practice is taken as a landmark for all other objects and distances in the village.
Paralia offers numerous sports facilities, water sports, beach volleyball, a large number of playing fields, tennis courts, volleyball, football and basketball ... It also features a large number of parks for children as well as amusement park. It is possible to drive to the neighboring resorts vozic Olympic Beach which is only 3 km from Paralia.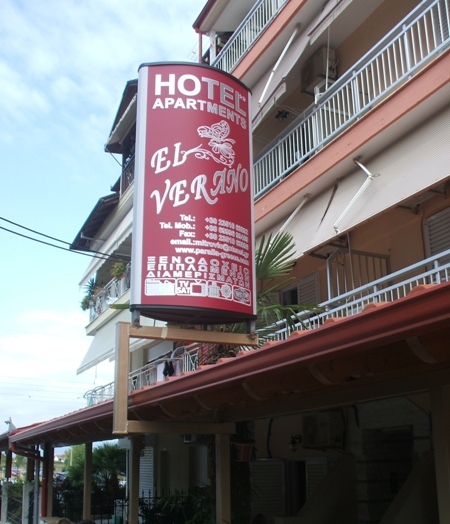 The apartments, El Verano:

Each suite has a toilet, AC, TV (with international channels), kitchen, wirelless internet, heating and free parking.
The apartments are located about 100 meters from the beach.